Never Drain! Daily 1% for…Lifetime
Bankroll FLOW
Coded to generate 1% return forever.
How does Flow work?
– Buy BNKRX with TRX and then deposit it into the Flow contract.
– Flow burn all the BNKRX and mining fresh BNKRX at 1% daily up to 365%.
– There is an option to roll your return whenever you like to compound your potential return on investment.
– You can invest in Flow as many times as you like to maximize your potential returns. You can collect your divs daily or roll your divs to increase your rate of return.
– To invest in flow you must enter a buddy address of someone who is already participating in flow before you can make your first deposit.

Is Flow safe?
– Flow mining fresh BNKRX instead of sucking new player's funds. BNKRX has elastic supply, it will never drain. Coin circulations are control by the burning, mining & liquidity locked features.
– The contract burn the deposit and drip back 1% daily to all participant. There will be no major holder with major % to dump on us.

Will BNKRX turn to zero value?
– There is another contract namely Stockpile locking liquidity forever. Stockpile players deposit TRX to stockpile and the contract will buy up BNKRX and lock liquidity permanently for trading.
Thus, BNKRX will Always Have Value.
Why would player deposit to stockpile since it lock forever?
– All BNKRX are trade in Bankroll's internal exchange namely SwapX, all transaction fees flow back to Stockpile providers.
These smart contracts formed an ecosystem strengthening each other and allow participants to earn daily 1% of BNKRX forever.
Is that too late to join Flow?
– There is NO "late" to jump into an infinity loop. The BNKRX will never dry up and always have value, eventually you will make profit in time. No one is left behind.
– Beside, Flow has about 26k active accounts at the moment compared to TrxChain at 714k accounts, late??
All the smart contract has been verified:
Audits – https://solidity.finance/audits/Bankroll
New to TRON ?
Flow run under the Tron blockchain. If you are new to Tron (TRX), you will need :
1) How to Setup a smart contract interaction wallet :
Desktop users: Tronlink
Mobile users: Klever
2) Get Tron (TRX) from exchanges or convert other crypto to TRX: Changelly, Klever Wallet, Exodus Wallet, Atomic Wallet etc.
3) Tron transaction will consume about 3 to 10 TRX. For smooth transaction :
a) Always maintain at least 30 ~ 50 TRX in your wallet to cover energy cost.
b) To save on transaction cost, you could freeze your Tron in Tronscan for Energy
c) Buy energy from TokenGoodies
Start earning with FLOW:
Deposit BNKRX to FLOW to start earning 1% daily drips. Get BNKRX from Bankroll SwapX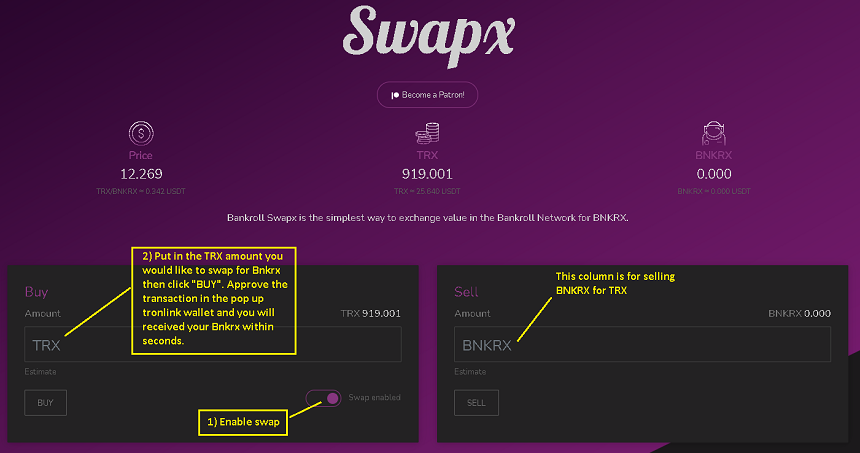 After loaded your BNKRX bag, go to the money making machine – FLOW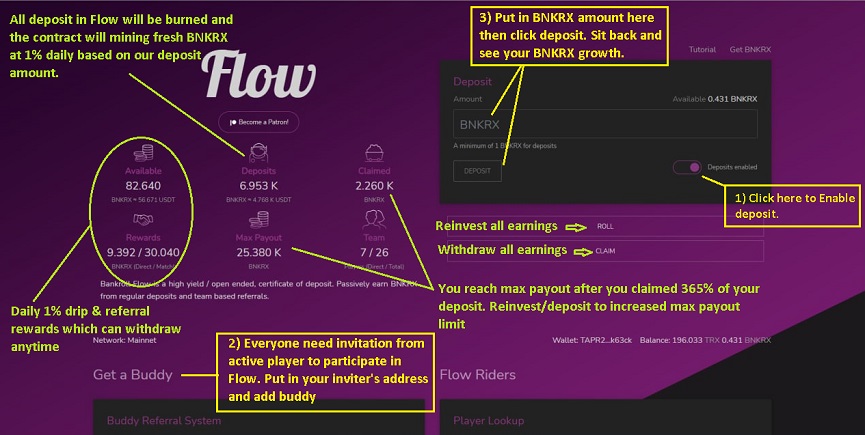 1) Click "Deposits enable" and tronlink will pop up then click approve/accept
2) Get a Buddy – Everybody need an invitation from an existing Flow member. If you don't have any, put in this : TXcW2HpAqzEx4kLCjoLN8FduTXQwTpDqrT
then click "update" and approve the pop up tronlink.

3) Deposit BNKRX into Flow for daily 1% earning. Your deposit will be burned which are not able to withdraw. It will generates 1% dividend daily and drip every few seconds which show in "available", you could withdraw anytime and swap it to TRX in SwapX. The 1% daily will run until you hit max 365% which showed in the "Max Payout" column.
Strategy to earn forever:
a) Roll (reinvest) for few days and claim few days. Thus consistently take some profit and gradually increase max payout limit.
b) Setup 2 wallets. Put a small bag in 1st account then refer yourself to your 2nd account. Put a nice bag of BNKRX in 2nd account and roll 100% of your 2nd account. 1st account is for profit withdrawal and 2nd account is your money making machine.
Flow will NEVER DRY UP in view of elastic supply of BNKRX, BNKRX value is supporting by Stockpile and SwapX.
Flow will keep running as long as Tron Blockchain exist which is technically…FOREVER!!!
There are multiple smart contracts in Bankroll network which supporting each other. Read the Bankroll whitepaper and explore yourself with the full ecosystem in Bankroll.
Skip back to main navigation